My photographs illustrate the variety of the natural and human characteristics of planet earth, and try to convey to the viewer, in a visually beautiful form, the emotions of being in some special places.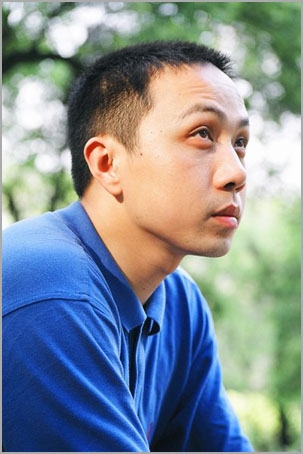 I lived in Singapore from 1997 to 2002, one of the most populated cities in the world. In 2002 and 2003, I have traveled in northwest Yun-nan, Tibet, and Xin-jiang. These might be the least populated places in the world. In Ali of Tibet, very often we drove whole day long yet did not meet one single person but ourselves.
Travel guide books never tell full story. In May 2003 while visiting a beautiful village of Miao minority group in Feng-huang, at one corner I was stunned by the wonderful stone houses, turn to another corner I saw a dead mouse was naturally thrown out of the window by a villager. I almost got hit by the big dead mouse.
Walking down in the shadows of Singapore concrete forest and the magnificent icy snow mountains might seem like very different experiences, however for the observant eyes and thinking brains the beauty of city and the wild are same in nature and different only by categories.
Beautiful landscape is beautiful, and that's all. One would get sick of snow mountains if stay in the mountain 365 days a year. What make more sense are the people we met. The truth is, people of these places share the same humanism attributes, angel in the left mind and devil in the right. The more you travel, the more disappointed you would be, unless there is true serenity residing deeply in your soul. There is no escape in this world but yourself.
Through my photography, I have tried to convey this message to the viewers. I like to emphasize both the beautiful and ugly sides of the places I travel. I seek to give a sense of place and time by letting the viewer see through the images as much as I saw myself, and experience the same emotions, although he is just presented with a partial representation. To do so, I carefully select and interpret visually the subjects so that their essence is revealed, often going to a great deal of effort just to create a single image.
Cameras are great tool to express the way I see this world. In order to get better visual results, I am forced to pay attentions to details and see the world from different angles which I never discovered before. Besides applauses and a little money, along the way of becoming a better photographer, my biggest harvest is a much more colorful little planet earth, which itself is nothing in the great darkness of the universe.
Slow down, listen to your heart, feel the simplicity of the world. In a society where too many artificial sensory input are available, these simple experiences can make us feel more connected to the world. They give us a sense of beauty, chaotic order, and liveliness which enrich our souls.
-------------------------------------------------------------------------------------------
I was originally trained as finance executive, with a degree of economics from Hunan university in China (1992) and a MBA from the National University of Singapore(1998). Throughout my career, from a banker with China Construction bank (1992-1997), a finance executive with Singapore telco Starhub (1999-2002), to a lecturer with business school of Hunan university (2002-), I have made no difference in these professional fields, often scold by the bosses. I am not interested at all in playing with financial numbers and how to make money with money. Money come and money go, what will I leave to this world when I die?
I am a big fan of hi-tech equipments, among them is DC, digital cameras. Take photos without film and view it immediately on screen. Just think of it, what a great hi-tech toy! Therefore a turning point happened in April 2001, the acquisition of a 3-mega-pixel Canon G1 digital camera led me into the world of photography.
Quickly after that, besides making living in the office as finance executive, the rest of my life was fully occupied by digital photography. Tired of office animal life, and triggered by the tragic death of one of my best friends in Singapore (he and his newly wed wife died in a traffic accidence while traveling in Si-chuan, China), in March 2002 I resigned and started a 2-month backpacking photographic tour in Tibet and Yun-nan.
I soon discovered I am a natural shooter. With no professional photography training (my first film camera Canon EOS30 was bought just a week before I set off to Tibet, and I had been reading the EOS30 user guide along the journey), and with inferior photographic equipment (some of my cameras like Olympus mju:II and EOS30 can only make rich pros laugh), yet my Tibet photo essays have been praised one of the best and was later appeared in 2 major travel magazines. Now the publication of my first photo album is well on the way.
In early 2003 I decided to climb a snow mountain. Many mountaineering pros just don't believe a guy of not-so-good health status, and with no mountaineering experience, dare to try a 7500m level snow mountain. But I made it. Picture below: on the summit of Mt. Muztag(7546m), 3pm, 1 Aug 2003.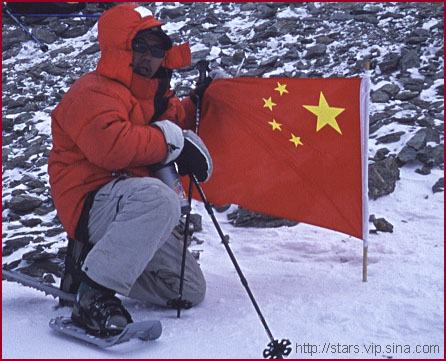 This is a good example showing that I am an extremist. Basically I don not like traveling much. Besides going market for food, literally I could stay home 365 days a year. I have a collection of thousands of books and DVDs. However once I decided to travel, the toughness and the length of the trip are beyond the imagination of ordinary tourists.
Now I am going to start a even greater tour project. I call it Document China. Time after time I am disappointed with not only the photos but also the articles of many travel magazines and books, including the best selling tour guide series LP, Lonely Planet, many photos are simply not up to professional standard, and because of the writers lake of in depth understanding of China, many of their writings are inaccurate, and/or misleading. I am going to write travel books of my own.
The last 2 months I have been in talk with magazine editors, most likely my photo essays will first appear in a magazine as personal travel diary. The first stage of my project will cover 3 big cities including Beijing Shanghai, 3 medium and small cities, 3 villages in the vast rural land, and 3 Chinese national parks. Starting in the summer of 2005,I hope the first stage will finish in 5 years. This website will be updated as my project progresses, so please bookmark and visit this website regularly.
Photography enables me to share beautiful sceneries and my thoughts with people, and I will surely continue to do it for the rest of my life. 
--------------------------------------------------------
Technical Info About The Exhibition
Cameras: Canon G1, Pro1, EOS30,500N,300V.

Lenses: Canon EF28-105, 28-135IS, EF50F1.8, Sigma 17-35, 70-300APO.

Tripod: Gitzo1227MKII with Velbon 273QL ball head. SLIK300, SLIK8000U.

Slide Films: Fuji Provia100F, 400F, Kodak EB3

Negative Films: Fuji, Kodak, Agfa, Konica.

Accessories: Cable release, PL filters (Hoya and Kenko)

Film Scanner: Canon CanoScan4000US.

Photo Priner: EPSON2100

Photo Paper: EPSON Archival Matte, #S041340

Editing Software: Photoshop 7.0
--------------------------------------------------------