A Letter to Anxious College Students
写给焦虑的大学生
Yang Fei in Changsha长沙杨飞
Time flies. In the blink of an eye, it has been 26 years since I graduated from college, and yet, in terms of the majors I studied in college and graduate school, and by the current prevailing standards of success, I can hardly claim any achievements. I am now sitting alone in the library, toiling hard everyday to earn a living. Many of my college classmates back then are now senior executives of big banks and large corporations, and their salaries are several times or even dozens of times that of mine.
时光飞逝,一晃我大学毕业已经26年了,然而就大学和研究生所学的专业来看,以及现在所流行的成功标准来看,我完全谈不上什么成就。我现在正孤独地坐在图书馆里,每天搬砖赚一点饭钱。我当年的同学们,现在很多都是银行和大公司的高管,薪水是我的几倍乃至几十倍。

However, I don't envy it much. On the contrary, I am content with my current life of austerity. Over the years, I have been engaging in writing and imaging-related art creation in my spare time. My major in university was finance and management, and what I am doing now, whether it's working in the library or pursuing creative endeavors in my free time, is essentially unrelated to my college major.
然而我对此并没有多少羡慕,相反,我很安于目前清贫的生活。这些年我一直在业余从事写作以及影像相关的艺术创作。我的大学专业是金融和管理,我现在做的这些事,不管是图书馆的工作,还是业余的创作,都和大学的专业基本没有关系。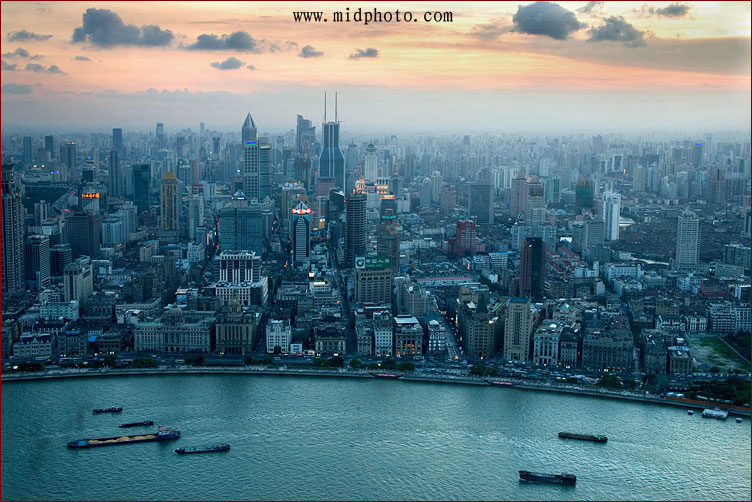 Summer in Shanghai, photographed by me, Lao Yang. This photo has been published several times, as book covers as well as cross-page image of Chinese National Geographic
上海的夏天,老杨作品。此图多次印刷,曾为书本封面以及国家地理跨页大图

Recently, I have received many inquiries from student friends, and the two words that strike me the most are confusion and anxiety. This is not just a phenomenon among undergraduate students, but also among high school students and graduate students. Many students want me to give them advice on choosing a major and planning the future. I am not a counsellor or a fortune teller, so it is not appropriate for me to give random advice. Below, I will briefly share my personal views for students' reference.
最近这段时间经常收到学生朋友的咨询,我感受最深的是两个词:迷茫和焦虑。这不光是大学本科的同学们,从高中生到研究生,这是一个普遍现象。很多同学都想让我给出出主意,关于专业的选择,以及未来的规划。我不是辅导员,也不是算命的,不好乱掐。下面我简单谈谈个人观点,供同学们参考。

1. Why Do We Live 为什么活着

What do people live for? The answer is only one word: happiness. No one can deny that, can they? Live for happiness, even masochists are no exception, but their way of obtaining happiness is more peculiar.
人为什么而活?答案只有两个字:快乐。这个答案应该没人否定吧?为快乐而活,即便是自虐狂也不例外,只不过他们获取快乐的方式比较特异。

2. How to be Happy 怎样才能快乐

The ultimate happiness does not come from getting, but from giving.
终极的快乐不是来自索取,而是来自贡献。

As a photographer, I have used Canon's top of the line 1D series digital SLRs, and these gems of human engineering certainly brought me great joy, and it is a pleasure just to listen to the charming shutter sound. However, what makes me happiest in photography is not how much equipment I own, but how much work I contribute. As a photographer, my ultimate happiness is to have many readers like my works and to have more and more photos printed and published.
作为一个摄影师,我曾经使用过佳能最顶级的1D系列单反,这些人类工程的精华当然让我十分快乐,听着那干脆利落的快门声就是一种享受。但是,在摄影方面最让我快乐的并不是拥有多少器材,而是贡献了多少作品。如果有很多读者喜欢我的作品,照片越来越多地被印刷发表出来,作为一个摄影师,这是我的终极快乐。

To gain pleasure, some people choose to shop endlessly. Materialistic gains and possessions can certainly bring happiness, but this happiness is short-lived. Buying a new phone makes one happy for two weeks, a new car brings joy for two months, a new house keeps one happy for one or two years, but these joys quickly dissipate.
为了得到快感,有人选择不停地购物。物质上的索取与获得当然也能给人带来快乐,但是这种快乐并不持久。买一个手机开心两个星期,买一辆新车开心两个月,买一套新房子开心一两年,这些快乐很快就会消逝。

Shopping brings happiness, but it is a relatively low-level happiness. Anything that one gets used to for pleasure will eventually lose its appeal.
购物让人快乐,但这是一种比较低级的快乐。任何物质上的东西,习惯了快感就没有了。

What should we do next? Continue pursuing bigger houses, fancier cars, and more luxurious dinners? I can only say that this is a misconception, or rather a black hole. There will always be someone richer than you, with villas, super luxury cars, and private jets. Desires are an endless abyss, and those unfulfilled will forever be shouting.
那么接下来怎么办?继续追求更大的房子和汽车,更豪华的晚宴?我只能说,这是一个误区,或者说黑洞。别墅、豪车和私人飞机,永远有人比你更富有。欲望是无底的深渊,得不到的永远在呐喊。

The joy of taking is limited, while the joy of sharing is boundless.
索取的快乐有限,分享的快乐无穷。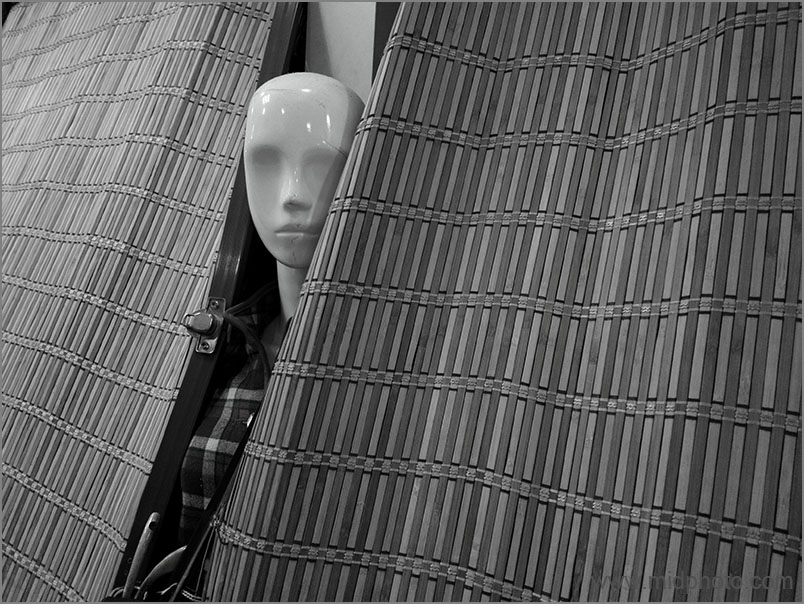 Tailor shop. Lao Yang mobile phone photography works.
裁缝店。老杨手机作品

3. Sharing is the Source of Happiness 分享是快乐之本

When you come back from a trip with a cell phone full of wonderful photos, it is not true happiness if you just hide under the quilt and enjoy the photos alone. Everyone agrees on this point, which is why many people are addicted to sharing their travel photos on social media. The more you share, the more comments you get, the greater the happiness.
出门旅行回来,手机里装满了照片,如果只是一个人躲在被子里偷着乐,这不是真正的快乐。这一点大家都同意,所以才会有很多人沉迷于朋友圈晒旅游。分享的人越多,被点赞越多,快乐就越大。

I used to communicate with students on the podium of the university, which is of course a joy. However, in the classroom, there are usually only a few dozen students. If I write and publish, I will be able to communicate with thousands or even tens of thousands of readers in no time. This is not at the same level compared to small-scale sharing in the classroom. Therefore, leaving the teaching profession is not a loss for me. As a writer, I find more happiness in my work.
我以前在讲台上和同学们交流,这当然是快乐的。但是课堂最多也就是几十个学生,如果通过写作和出版的形式,我很快就能和数千乃至数万的读者交流,这和课堂上的小范围分享不是一个数量级的。所以,离开教学岗位对我并不是什么损失。作为一个作家,我的快乐其实更多。

I not only advocate for spiritual sharing but also for material sharing, because it can also bring happiness. After years of being a photographer, I have a large collection of cameras and lenses in my closet, and most of which are just backups. These cameras are all old models, and they are not worth much if they are sold. I just keep them and lend them to my friends for travel use. Many friends travel only once or twice a year, so there is no need to spend big money to buy mirrorless cameras and digital SLRs.
我不但提倡精神上的分享,也提倡物质上的分享,因为它同样能带来快乐。搞摄影这么多年,我柜子里有一大堆相机和镜头,大多数都只是备用机。这些相机都是旧型号,卖掉也不值几个钱,我就专门留着借给朋友们,供大家旅游之用。很多朋友都是一年才出门旅游一次,完全没有必要花大钱去买微单和单反。

4. The Original Sin of Wealth 财富的原罪

If something is purchased but barely used and does not fulfill its intended purpose, it is a tremendous waste. This type of waste is not good for either individuals or society as a whole.
一个东西,如果买来之后基本不用,没有发挥它应有的用途,这就是一种极大的浪费。这种浪费无论是对个人还是对社会都是不好的。

Our current society is heavily reliant on fossil fuels such as oil and coal. From a macro perspective, wealth and energy are directly correlated. However, the use of fossil fuels has caused significant problems for our environment, producing toxic substances and greenhouse gases. In this regard, having wealth (spending too much money) is an original sin. People who live in mansions and drive luxury cars cause much more damage to the environment than the average person.
我们目前的社会极度依赖于石油和煤炭等化石能源。宏观上来说,财富和能源直接相关。然而化石能源的使用给我们生存的环境带来了很大的麻烦,它产生有毒物质,带来温室气体。从这个角度来说,拥有财富(花了太多的钱)是一种原罪。住别墅、开豪车的人,他们对环境的破坏比一般人要大得多。

The pollution caused by toxic substances can be controlled, but the accumulation of greenhouse gases is basically uncontrollable. In order to protect the environment, we need to reduce industrial production, decrease society's demand for materials, and promote sharing. This is why I am busy lending everything I can to my friends; one of my main purposes is to keep them from buying things.
有毒物质的污染是可控的,但温室气体的累积基本是不可控的。为了保护环境,我们需要减少工业产出,减少整个社会对物质的需求,提倡共享。这就是我为什么忙不迭地把手头所有能借的东西都借给朋友使用,我的重要目的之一就是制止他们消费。

Buying fewer things and saving money is beneficial both for individuals and for society as a whole. I constantly lend out my belongings. I lend my camera to friends who are going on a trip, lend my mountain bike to college students who want to ride to Tibet, lend outdoor and mountaineering equipment to friends climbing Mt Muztag Ata, and just last month, I lent my unused electric piano to a former student who has wanted to learn music for a long time. My car often goes untouched for many days at a time. I even considered car-sharing, but the thought of the recklessness of certain inexperienced drivers made me put that idea on hold for now.
少买东西,省了钱,这对个人是有好处的,对整个社会也是有好处的。我不停地出借东西。我把相机借给去旅游的朋友们,把山地车借给大学生骑去西藏,把户外和雪山装备借给攀登慕士塔格峰的朋友,上个月我还把闲置多年的电钢琴借给以前的一个学生,她想学琴很久了。我的汽车经常十天也没开动一次,我甚至想过共享汽车,但是考虑到某些新司机的恐怖,此事暂时作罢。

Since I am not a saint, it's inevitable to have distractions. Sometimes I impulsively buy things that I don't end up using, or my plans change and the items I purchased become unused or end up in storage after just one use. I am glad to share these things with others and make the most of them. Sharing good things with friends, reducing waste, and helping each other is a joyful endeavor.
既然不是仙,难免有杂念。我有时候也一时手贱买了一些东西,或者计划赶不上变化,买了东西回来没用到,或者用一次就进了仓库。我很高兴把这些东西分享出去,做到物尽其用。好东西和朋友们分享,减少闲置,帮助大家,这是一件快乐的事。

My next big plan is to transform an unused house into a book bar and tea room, where I can share the collection of books, audio equipment, and visual materials I have gathered over the years. This book bar will be free of charge; if you enjoy it, you can contribute a small donation as you wish, and there will be a QR code at the entrance. While the goal is not to make money, I also hope that it won't operate at a loss and can sustain itself. (Update on May 24th, 2019: This book bar has already opened, please click: Universal Shared Library)
我下一步有一个最大的分享计划,打算把闲置的一套房子改为书吧和茶室,分享我多年搜集的书籍、音响设备和影像资料。这个书吧是不收费的,如果你喜欢,看着给点就行,门口有二维码。虽然不以赚钱为目的,但也希望不要亏本,能够维持下去。(2019/05/24:此书吧已经开张,请点击:万能共享书屋)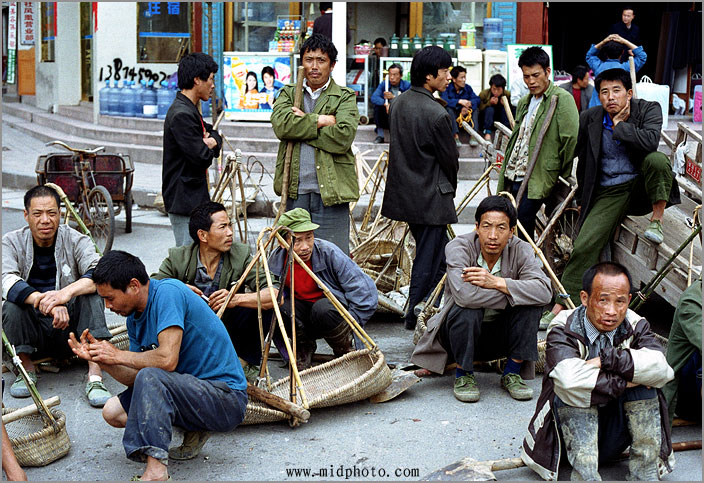 Lao Yang's work, street people
老杨作品,街头人物

5. Helping Others is the Source of Happiness 助人是快乐之源

Sharing is the foundation of joy, and another expression of it is: helping others is the source of happiness. This is what we mean when we talk about "helping others is a pleasure" since childhood. Why do so many middle-class people, even wealthy and affluent individuals, compete to do charity work? The answer is simple: for happiness.
分享是快乐之本,它的另外一个说法是:助人是快乐之源。我们从小念叨的"助人为乐"说的就是这个意思。为什么那么多衣食无忧的中产阶级乃至财主富人都争着去做公益?答案只有一个:为了快乐。

American psychologist Maslow once pointed out that human needs can be divided into five levels from low to high: physiological needs, safety needs, social needs, esteem needs, and self-actualization needs.
美国心理学家马斯洛曾指出,人类的需求从低到高分为五个层次:生理需求、安全需求、社交需求、尊重需求和自我实现需求。

Having enough food and clothing is no longer a big issue now. The ultimate happiness lies in realizing one's self-worth and gaining respect from others and society. The magnitude of this happiness is not determined by how much wealth one possesses, but rather by how many people they have helped and the contribution they have made to society.
吃饱穿暖现在都问题不大。实现自我价值,得到他人和社会的尊重,这才是终极快乐。这种快乐的大小,并不是看他拥有了多少财富,而是看他帮助了多少人,对社会的贡献有多大。


6. Material Assistance and Spiritual Assistance 物质助人与精神助人

We can help others in material ways, such as handing a bun to the hungry; or we can help others spiritually, such as handing a scripture or other spiritual chicken soup to someone who is lost. Without a doubt, spiritual help is more important. Nowadays, there are fewer and fewer people who do not have enough to eat.
我们可以在物质上帮助别人,比如给饥饿者递上一个馒头;也可以在精神上帮助别人,比如给迷茫者递上一本经书或者其他鸡汤。毫无疑问,精神上的帮助更为重要。现在吃不饱饭的人已经越来越少了。

In terms of helping people spiritually, the more people you help, the better. Seeing the number of views on an article exceed 100,000 and reading comments from readers saying how much the article has helped them and hoping to see more works - all of this makes me happier than no matter how much money I earn.
精神助人,帮助的人同样越多越好。对一个写作人来说,没有比获得读者的赞美更开心的事了。看到文章的阅读量蹭蹭地超过十万加,看到读者留言说文章对他帮助很大,希望看到更多的作品,这对我来说比赚到多少钱都开心。

Therefore, I have been spending my days thinking about how to create better works and reach more people. As for how much income it can bring, I haven't really thought about it too much.
所以,我现在一天到晚琢磨的就是怎样创作出更好的作品,让更多的人看到。至于能带来多少收入,我并没有考虑太多。

A poem may long, long remain, who knows the poet's loss and gain? As an artistic creator, I care more about future reputation than immediate benefits. If, a hundred years from now, there are still many people searching for Yang Fei's works in libraries, I would laugh out loud even from inside the coffin.
文章千古事,得失寸心知。作为一个文艺创作者,我更关心的不是眼前的利益,而是将来的名声。如果百年之后还有很多人在图书馆里寻找杨飞的作品,那我在棺材里都会笑出声来。


7. Moderate Austerity 适度的清贫

Maintaining a moderate state of austerity is beneficial for personal growth and inner peace.
保持适度的清贫,对个人的成长,以及心境的平和,都是有好处的。

Being too poor, worrying about the next meal after barely managing the last one, is certainly not a happy situation. However, those wealthy tycoons have more worries than the average person. Sometimes, they even have to guard against their own family members as if they were thieves. This is my conclusion after working in banks and companies for many years and having extensive interactions with various wealthy individuals.
太穷了,吃了上顿愁下顿,这当然是不快乐的。然而那些大财主们,他们的烦恼比一般人更多,有时候连家人都得当贼一样的防着。这是我在银行和公司工作多年和各种财主广泛接触后的结论。

Even if your main pursuit is material happiness, having too much money can actually decrease the feeling of joy. This phenomenon has a term in economics called "diminishing marginal utility." For office workers, buying a designer handbag or an iPhone can bring great happiness. However, for super wealthy individuals, who can buy ten iPhones with the cost of a single meal, that iPhone no longer brings much happiness.
即便你的主要追求是物质上的快乐,拥有太多钱之后,快乐的感觉反而可能减少。这种现象在经济学上有一个名词,叫做"边际效用递减"。对于上班族来说,买一个名牌包包或一个苹果手机,这是很快乐的事。但是对于超级财主来说,一顿饭钱都可以买十个苹果X,这个苹果手机就不能带来什么快乐了。

The conclusion is: the middle class is the happiest. Office workers are the happiest people; they just don't realize it themselves.
结论就是:中产阶级最快乐。上班族就是最快乐的人,只是他们自己不知道。

What constitutes moderate austerity varies from person to person. For me, earning around 100,000 Yuan (USD15,000) a year by working in a library in Changsha makes me happy. It solves the problem of food on the table. I drive an old Peugeot 307, but I have no desire for a better car. I rarely drive as I mostly walk, ride a bicycle, or use an electric scooter. The clothes I wear are cheap items from online shops, as long as they are clean and warm, that's all I seek. When traveling, I find youth hostels and budget hotels to be sufficient. In short, moderation is key. Being in the middle is the best.
什么是适度的清贫,这个标准因人而异。对我来说,在图书馆搬砖一年差不多有十万元收入,在长沙我已经很开心了,吃饭的问题解决了。我的汽车是一辆破旧的标致307,但是我并没有换车的欲望。这辆车很少使用,我一度想处理掉,因为我大多数时间都是走路、骑单车或者电动车。我穿的衣服都是淘宝货,很便宜,我只求干净和温暖。出门旅行,我觉得青年旅馆和快捷酒店就很好。总之有度就好。中等就是最好。

Money and wealth are external things; we can't take them with us when we die. Personally, I have low materialistic demands. Since my basic needs are already met, my motivation to earn more money is not strong.
钱财乃是身外之物,生不带来死不带去。我本人在物质上要求很低。既然已经基本满足,我赚钱的动力就不大。
Allow me to add one more point here. The lower your material desires, the freer you will be spiritually. The higher your material demands, the more attachments you will have, and it also means that you will be more bound by others.
这里我补充一点。如果你在物质上要求越低,你在精神上就越自由。物质上的要求越高,你的牵绊就越多,也意味着你将更多地受制于人。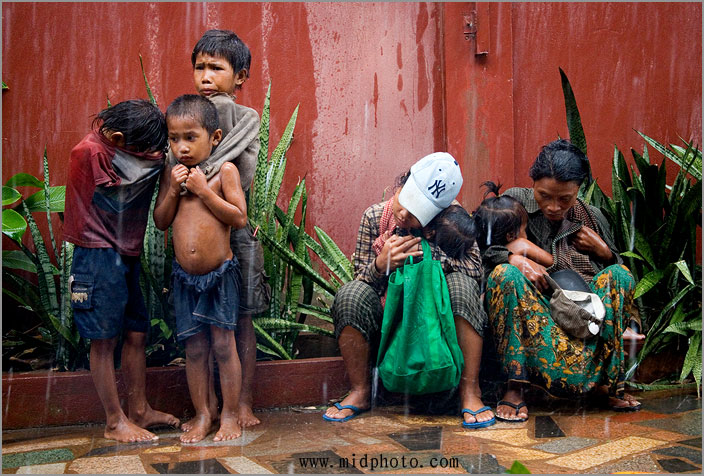 Children of Cambodia, works by Lao Yang
柬埔寨的孩子,老杨作品

8. Unnecessary Anxiety 没有必要的焦虑

I understand the anxiety that college students have about the future. However, most of this anxiety is unnecessary. As long as you're physically capable and not lazy, you can find a job anywhere. This used to be my mantra in the classroom. The vast majority of college students can earn a decent income after working for a few years, so there is no need to worry about it. It's easy to make a living.
我理解大学生们对未来的焦虑。但这种焦虑一般是没有必要的。只要身体没垮,又不是好吃懒做,在哪都能找个工作。这是我以前在课堂上的口头禅。绝大多数大学生,上班几年之后都能混个中等收入,有什么好担心的呢。混碗饭吃是很容易的。

Sometimes I think that their anxiety is not so much about putting food on the table, but rather putting great food on the table? Maybe they want a job with more money and fewer responsibilities? Well, in that case, I don't have much else to say.
我有时候想,他们更多的焦虑不是吃饭,而是吃好饭?比如事少钱多离家近?Well,那我就没有啥好说的了。


9. Choosing a Major 专业的选择

When I graduated from high school in 1988, like most people, I had no clear idea of what kind of job I should pursue in the future. I randomly filled in "finance" as my major choice, simply because I heard that it could lead to a high income in banks. After all, nobody has a grudge against money. Most people choose their majors based on hearsay or random selection. Alright, let me correct myself. I also applied to Shenyang Police College, aspiring to maintain law and order, but my application was rejected due to poor vision in my right eye.
1988年高中毕业的时候,和绝大多数人一样,我并不清楚以后应该从事什么工作。金融专业是随便填的,据说银行里钱多。没有人和钱有仇。大多数人都是这么选专业的,听说的或随便选的。好吧,更正一下,我还填报过沈阳刑警学院,想除暴安良,但是因为右眼视力被刷。

It's not surprising that people choose their majors randomly. At 18 years old, having never worked before or been exposed to any industries, how would one know what they truly enjoy? As a result, most college students are dissatisfied with their majors and just coast through their university years. Students are pursuing diplomas, while teachers are pursuing salaries; that's the current situation in most universities. It's understandable that liberal arts students may not learn much, but it's shocking to see even engineering students in the same boat. It's a pity that parents' money and one's youth are wasted in universities.
专业随便选也不能怪大家,18岁的人,从来没有上过班,没有接触过任何行业,怎么知道自己喜欢什么?其结果就是大多数大学生都对自己的专业不满,进了大学后都是一混。学生混文凭,老师混薪水,这就是大多数大学现在的情况。文科生学不到什么东西可以理解,但是现在连工科生都是如此,十分令人震惊。父母的钱财以及自己的青春都被浪费在高校里,真是可惜。

The root cause of this situation lies in the education system and employment system. If impulsive buying is considered a waste, then aimlessly pursuing a university education is the greatest waste of one's life. Overall, I believe that after completing middle school or high school, a person should not continue studying in school. They should directly enter the workforce. If they later realize the need for further education, then they can choose to pursue a university degree with a clear goal and based on their interests. This would be the ideal scenario.
这种情况的根源是教育制度和用工制度的问题。如果说乱买东西是一种浪费的话,乱读大学才是人生最大的浪费。总体来说,我觉得一个人初中或者高中毕业之后就不应该继续在学校里读书了,应该直接去上班,以后发现有继续深造的必要再去读大学,有的放矢,凭兴趣读书,这是最好的情况。


10. Switching Professions 行业的更换

The choice of profession is not that important. About a quarter of people eventually give up their major and switch to something else. I myself am quite peculiar, you could say I hate every job I do and have switched professions many times. After graduating from university in 1992, I worked with China Construction Bank for five years. Later, I didn't want to continue that job anymore, so in 1997, I quit and came to Singapore to pursue a master's degree in Business Administration at the National University of Singapore. This situation is similar to many students who pursue master's or doctoral degrees nowadays. I wasn't passionate about business administration either. I pursued further education mainly to escape from jobs I didn't like.
专业的选择也并不是那么重要。大约有四分之一的人后来放弃了本专业,干别的去了。我自己算是比较奇葩,可以说是干一行恨一行,换了很多行业。1992年大学毕业后,我在建设银行上了五年班,后来实在不想干了,1997年来到新加坡,在国立大学读研,专业是工商管理。这个情况和现在很多读研读博的同学类似,我对这个专业并没有热情,继续读书主要是为了逃避不喜欢的工作。

In 1999, after obtaining my MBA degree, I worked in the finance department of StarHub Telecommunications in Singapore for three years, and then I didn't want to continue that job. In 2002, I came to Hunan University and started teaching at the School of Business Administration. I stayed there until 2013, during which time I semi-professionally engaged in travel photography for over two years. In 2013, I couldn't continue working there, so I joined the university library. So far, I am quite satisfied with this job, except for having to clock in every day. I might eventually settle into the role of a librarian and writer, as I believe it can help more people.
1999年,我混到MBA文凭之后,在新加坡星和电信干了三年财务,然后又不想干了。2002年我来到湖南大学,在工商管理学院教书,一直到干到2013年,这期间有两年多,我半职业化地在从事旅行摄影工作。2013年我在管理学院又干不下去了,来到图书馆工作。目前为止这个工作还比较满意,除了每天要打卡之外。我可能最后会安定在图书管理员兼作家的角色上,我觉得这样能帮助更多的人。

If you are willing to change your major or switch careers, it's never too late. "Having heard the Tao in the morning, one may die content in the evening."
如果你愿意换专业,转行当,任何时候都不晚。朝闻道夕死可矣。

Of course, the transition sometimes comes with a cost, as you are giving up your previous experience and starting from scratch. Financial loss is inevitable. In 2002, my monthly salary in Singapore was about RMB 15,000, but when I came to Hunan University, my monthly salary was less than RMB 3,000. However, I felt that working in a company was a waste of life, and I imagined that teaching at the university would be better, so I didn't particularly care about money. Of course, at that time, I was a single happy guy, with no family to worry about. If I had a family to support, the decision might have been more difficult.
当然,这个转变有时需要付出代价,因为你放弃了以前的经验值,从零开始。钱财上的损失是难免的。2002年我在新加坡的月薪差不多人民币一万五千,来到湖南大学,月薪只有不到三千,但是我觉得在公司里是浪费生命,在想象中我觉得大学里教书会比较好,所以没有特别在乎钱的问题。当然,那个时候我是一人吃饱全家不饿,如果有家小,决定可能会艰难一些。


11. Choices for Ordinary People 普通人的选择

Some students may ask, "I don't have the talent of writing or photography like you do. How do I help others and find happiness?"
有同学说,我并没有像你一样的写作或者摄影特长,怎么去帮助别人,怎么获得快乐?

In fact, the most important thing for happiness is to adjust your own mindset and set achievable goals. This goal doesn't have to be earning a hundred million dollars or helping ten thousand people. My definition of a successful life is to first ensure that you have your basic needs met, and then be able to help others. Let's not talk about others for now. Taking care of yourself, your children, and your family is already great. Family is the basic unit of society, and when families are taken care of, society becomes harmonious.
其实快乐与否,最重要的是调整自己的心态,设立一个力所能及的标准。这个目标不是先小赚它一个亿,或者帮助一万人。我所谓的成功人生,就是首先保证自己衣食无忧,然后能对他人有所帮助。先不要谈他人吧,把自己照顾好,把孩子和家人照顾好,这就很不错。家庭是社会的细胞,家庭都照顾好了,这个社会就和谐了。

Taking care of your family is easier said than done. As a single father, I am constantly exhausted by my two-year-old son and my seventy-year-old mother. Despite this, I still have confidence in the future. Young college students have even less reason to worry, as they have no elderly to care for and no young children to raise. This should be their happy time.
照顾家人这事说起来容易做起来难。作为一个单亲爸爸,我每天都被两岁多的儿子以及七十多岁的老妈折腾得半死。即便是这样,我依然对未来有信心。年轻的大学生们就更没有必要担心,上无老下无小,应该正是开心的时候。

Ensuring one's basic needs are met is not difficult, especially for college students who are the future middle-class. There's no need to worry too much. As for helping others, even if you don't have exceptional talents to help a lot of people, helping a few is still meaningful. For example, providing one-on-one support for a disadvantaged child to complete elementary school education (please personally hand the money to the child and do not transfer it through others).
保证自己衣食无忧并不难,大学生都是未来的中产者,真不用担心。对他人有所帮助这事,如果你没有什么才能,不能帮助很多人,那帮几个也好。比如一对一支持一个贫困孩子读完小学(钱亲自交到手上,不可转交)。


12. The Joy of Small Things 小事的快乐

In fact, there are many small things in life that can bring joy. Some of the things I have done include: helping a blind person cross the road, assisting a female driver with parking, sharing an umbrella with a stranger in the rain, offering free rides to people going in the same direction, shoveling snow on the road, cleaning public corridors, helping someone change a tire, helping an old man who fell down on the street, finding ways to return lost items to their owners, teaching children English, and giving free badminton lessons to others. In short, I have done many small acts.
其实生活中一些小事都能让人快乐,我干过的事情有:帮盲人过马路、帮女司机倒车、和陌生人共享雨伞、顺风车免费搭人、铲雪、打扫公共走廊、帮人换轮胎,街头扶老人起来,捡到东西想办法找到失主,帮助孩子们学英语,免费教别人打羽毛球等等,总之很多小事我都干过。

If you want to help others, opportunities are everywhere right outside your door. There's no need to deliberately go to remote mountainous areas or Africa.
你想帮助别人的话,家门口到处都是机会,没必要特意跑到遥远的山区或者非洲。


13. People without Quirks are Not Worth Knowing 人无癖不可交也

I have another suggestion: it is difficult to find happiness in life without a hobby. Most people find it challenging to derive happiness solely from work, so it's worth trying to find joy in recreational activities.
我还有一个建议,如果没有一个业余爱好的话,人生是很难快乐的。多数人都很难从工作中获得快乐,那就尝试着在业余爱好中收获快乐吧。

Since you have come to college, you are definitely not foolish and it shouldn't be a problem to find a hobby. If music and painting seem too difficult, exploring culinary skills is also a good option. If you truly don't have any hobbies, strive to excel in a particular aspect of your studies or work. If you are a student of English major, consider focusing on simultaneous interpretation. People without quirks are not worth knowing, and a life that is overly mundane is not desirable.
既然都读到大学了,人肯定不蠢,搞一样业余爱好问题不大。音乐和绘画难度太大的话,钻研厨艺也是好的。如果你实在没有任何爱好,在学习或工作上的某一方面做到与众不同也好。如果你是英文专业的,那就瞄准同声传译吧。人无癖不可交也,人生过于平淡也不好。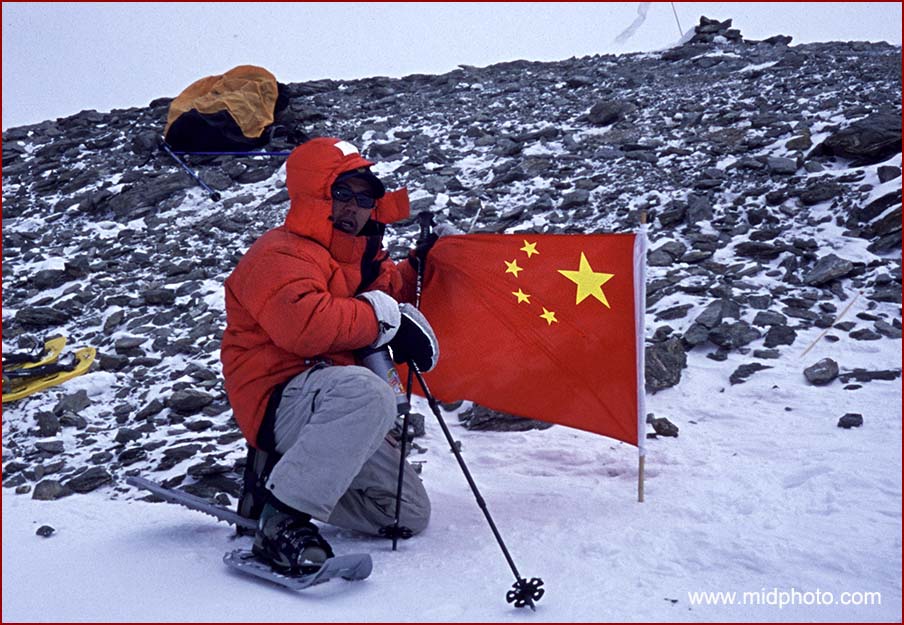 In August 2003, Lao Yang summited Mt. Muztag at an altitude of 7,546 meters
2003年8月,老杨登顶海拔7546米的慕士塔格峰


14. How to Properly Spend Your Time in College 怎样正确地耗掉大学时光

If you unfortunately find yourself already embarked on a hopeless adventure of college or graduate school life and feel dissatisfied, what should you do? In fact, attending college is a good thing. You have food and drink provided, and plenty of free time. If there were no exams, I would be willing to be a college student for life. Think about it briefly, here are some things I think you can do in college:
如果你不幸上了大学或者研究生的贼船,又很不满意,怎么办呢?其实读大学真是一件不错的事,吃喝有人供着,自由时间很多。如果没有考试,我愿意当一辈子大学生。简单想想,我觉得在大学里可以干这样一些事情:

a. Learn English. Aim for at least a score of 7 in the IELTS exam.
b. Read books, especially banned books.
c. Engage in one or two hobbies.
d. Experience one or two romantic relationships.
e. Skip classes you don't like, audit classes you're interested in.
f. Take a part-time job, engage with society, and earn some pocket money.
g. Graduate with a diploma.
 
a,学英文。雅思至少七分;
b,读一些书,特别是禁书;
c,搞一两样业余爱好;
d,谈一两次恋爱;
e,逃不喜欢的课,旁听有兴趣的课;
f,打一点工,接触社会,赚点小钱;
g,混到毕业文凭。

With these activities, your time in college should be quite fulfilling.
有了这些,你的大学时光就应该很忙了。


15. Career Planning? 生涯规划?

When I was in elementary school, I used to make plans every summer vacation. But I never managed to fulfill those plans. And that was just for a few dozen days; if it were to plan for several decades, it would be unimaginable. Except for fortune-tellers, most people dare not predict their lives. I heard that there is a career planning course in college. If I had planned my entire life when I was twenty years old, and the next few decades were just to test the correctness of those plans, then the significance of life wouldn't be that great.
读小学的时候,我每个暑假都制定计划。但这些计划从来没有完成过。这还只是几十天,如果要计划几十年,简直不可想象。除了算命的大仙,一般人都不敢预测人生。以前听说大学里还有一门生涯规划课,我心的话要是二十岁的时候就把一辈子都规划好了,接下来几十年只是检验当年的计划是否准确,这辈子的意义就不是很大。

But then again, some say that those who do not plan for the future will find trouble at their doorstep. Well, it makes sense to say it anyway. It is said that there is a characteristic of the peaceful era: most people at the age of twenty can foresee what they will be like at fifty or even at the end of their lives. It should be said that this statement is generally accurate. There is nothing wrong with it; it is real to be simple and natural, isn't it?
但是又有人说,人无远虑必有近忧。好吧,怎么说都是有理。据说太平盛世有一个特征:大多数人二十岁的时候就能预见五十岁甚至临死的时候会是个什么样子。应该说这个说法是基本准确的。这并没有什么不好,不是说平平淡淡才是真吗?

I think many students are too anxious and always want to look forward to the far, far future. As for me, during my university days, I mostly skipped classes to read books, play video games, and fall in love. It wasn't until after I turned 30 that I started writing and doing photography. At 32, I backpacked to Tibet for two months and published my first set of photos upon my return. From then on, I made efforts to pursue my creative endeavors. All of these were quite accidental, and I couldn't have predicted any of them during my university years. I originally thought I would spend my whole life working in a bank.
我觉得很多同学过于着急了,总想展望很远很远的未来。就我个人来说,大学时候我主要都在逃课看闲书、玩电游和谈恋爱。我的写作和摄影都是三十岁之后才开始。32岁的时候,我到西藏背包旅行了两个月,回来之后发表了第一组图片,随后开始进行创作的努力。这些都是很偶然的事情,我在大学里完全没法预测。我本来以为自己会在银行里度过余生的。

Of course, I'm a rather peculiar case and not representative of the majority. Not many of my university classmates gave up their major, and most of them are still working in the finance industry. A few changed their careers to become teachers or housewives, but none of them pursued artistic creation. As a special case, it doesn't make much sense for me to keep talking. That's all for this article.
当然,我是一个比较奇葩的案例,不具备典型性。我的大学同学放弃本专业的并不多,大多数同学目前依然在金融圈里打拼。有少数同学转行,当老师或者家庭主妇,但是从事文艺创作的还真没有。作为一个特殊案例,我继续多嘴就意义不大。此文就到这吧。

Fulfill yourself and help others. Maintain expectations and embrace surprises.
充实自己,帮助他人。有所期待,有所意外。

I hope everyone lives happily.
希望大家都过得开心。

Yang Fei,
12 Apr 2018, Changsha
---
相关文章
《想到了就去做|水果帮教主乔布斯在斯坦福大学的演讲》,老杨翻译版
电影评论翻译:90年代最好的一部电影《红色警戒线》Thin Red Line
---
---
关注老杨
杨飞作品集:www.999kg.com
微信:yangfei789288
微信公众号:老杨书吧
新浪微博@长沙杨飞
推特Twitter@feiyang17
Facebook:yangfei999999@hotmail.com
---